SoundSpace Classes
Balance Classes & Workshops Located at 211 N. 9th Street, Manitowoc
SoundSpace is the new home of Peter Hess Academy USA, one of 23 international academies in as many countries. SoundSpace will offer Peter Hess Sound and Vibration Therapy Experiences, along with sound and vibration infused meditations, breath work and yoga classes. SoundSpace features hand-hammered and engineered singing bowls paired with specialized Sound Clouds that magnify the vibrations for full immersion. This gentle, yet powerful method promotes healing and overall well-being. Sound massage sparks an unfolding of the beauty of human potential that each of us carries within, and SoundSpace will provide an opportunity for people to go deep to reconnect with the self, find stillness and peace, and to become quite enough to hear the answers within.
Gina Armstrong, owner of Balance on Buffalo, received her training in Germany where she participated in intensive sound massage training with Peter Hess himself, and continues to study the evolving method. "The vibrations of singing bowl sound massage take you inwards, providing a gentle and easy way to re-harmonize the body for alignment, for self-care, for a healthier life," remarked Armstrong. "At SoundSpace, our goal is to create a space where people can be still and benefit from the therapeutic vibrations of sound therapy, including the unique experience of singing bowls while relaxing on our sound clouds. We offer these sounds and vibrations to people, and in their bodies is the innate wisdom to choose what works for them, what resonates with them, while leaving the rest behind."
SoundSpace will be the US distribution point of Peter Hess singing bowls and other products. "I think people will enjoy playing the bowls and discovering the benefits of sound and vibration," remarked Armstrong. "At SoundSpace, we'll also offer classes, workshops and sound concerts. Tap. Play. Vibrate. Be in-tune. We look forward to sharing with you this next momentous step in our journey of overall well-being." SoundSpace by Balance on Buffalo is owned by Gina and Tom Armstrong and is located at 211 N. 9th Street, Manitowoc, Wisconsin. News Article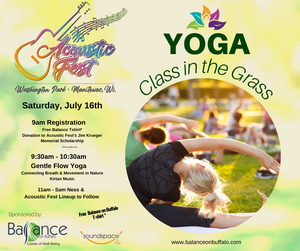 Free Yoga at Acoustic Fest 9am Registration
Start your Acoustic Fest in the right frame of mind with a free yoga class! Balance on Buffalo will be leading the Yoga Class in the Grass at 9:30 - 10:30 on July 16th in Washington Park!! Then stick around to hear our first performer of the day, Sam Ness, at 11:00! Registration for the yoga class will begin at 9:00.
Balance on Buffalo will be providing special t-shirts for the yoga class with a donation that will go towards the Jim Krueger Memorial Music Scholarship.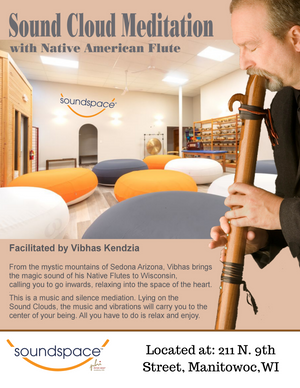 Sound Cloud Meditations June 16, July 21, August 18, Sept 15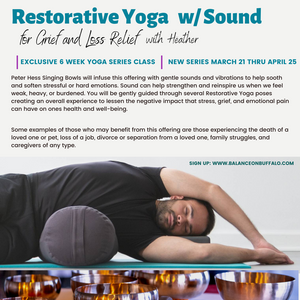 Mondays 5pm Restorative Yoga with Sound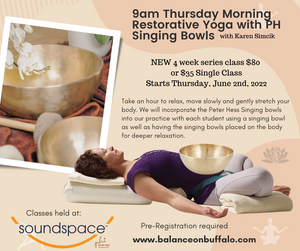 9 am Thursday Mornings in June Restorative with Stretching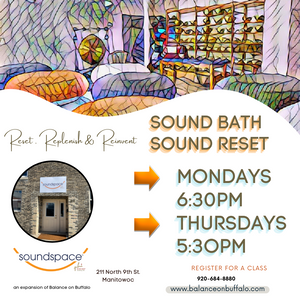 Sound Reset Classes