Investing in the well-being of your employees through our corporate wellness programs not only demonstrates your commitment to their health but also yields long-term benefits for your organization. Our dedicated team is ready to work with you to customize a wellness program that aligns with your goals and fits seamlessly into your company's schedule.
Bringing Well-Being to the workplace
Studies show that participation in a consistent massage therapy program and classes such as yoga, stretching, and meditation, decreases health-care costs, increases productivity, and increases employee satisfaction. Employers seeking ways to bring the benefits of these practices into the workplace have placed their trust in Balance on Buffalo for the past 17 years. Balance on Buffalo, with the help of professionally licensed therapists, has provided massage, yoga, and meditation classes to thousands of people seeking strong, healthy bodies and calm, focused minds in our fast-paced and stressful society.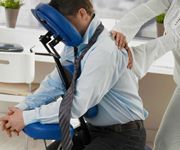 For nearly two decades, we have been dedicated to providing exceptional Corporate Wellness Programming. With our extensive experience dating back to 2004, we offer a range of services tailored to meet your business needs. Whether you require massage therapy on a daily, weekly, monthly basis, or for special workplace events, we can accommodate you at your own premises or ours.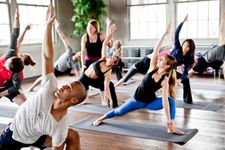 Additionally, we take pride in our on-site yoga programming, which we have successfully delivered to a wide range of corporate businesses for the past 15 years. Offering up to three sessions per week, our experienced instructors guide participants through invigorating yoga classes that help improve flexibility, focus, and overall physical and mental health.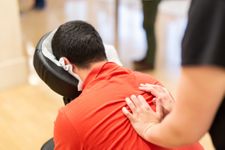 Our professional massage therapists are skilled in various techniques to promote relaxation, reduce stress, and enhance well-being. By integrating massage therapy into your corporate wellness program, you can provide your employees with a rejuvenating experience that boosts productivity and morale.
Testimonials
Wonderful instructors and great environment. Best place for yoga or massages in Manitowoc.
— Debra Jones
Experienced staff, wonderful service!
— Rose Colored Glasses
Balance on Buffalo is an amazing place! The energy is calm and welcoming. I go to Balance as often as possible for massage or yoga. This place stands above all the rest. I had a hamstring injury for months that was healed after 6 visits to Balance. Love this place!
— Dana G
Staff. All are kind, welcoming and know their practice. Great atmosphere and facility.
— M.K.
The whole experience was friendly, knowledgeable and professional. I have already mentioned it to several people, and will definitely be back in the future to try more classes.
— J.C.
A long time customer of Balance on Buffalo. From the welcoming and skilled staff to the classes offered, this place is truly a healing experience. Whether you are seeking a soothing massage or take a class to enrich your spirit, you will not be disappointed.
— Elaine S.