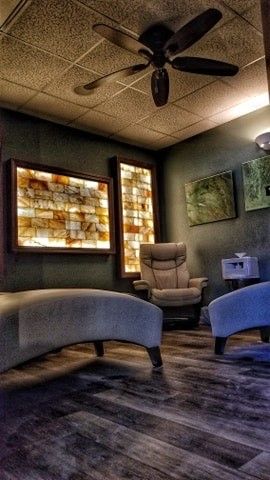 When Booking the Room please be sure to go to CLASSES in the APP or Online as up to 5 people can attend in ONE session.
Salt Room: Our Salt (Halotherapy) Room offers appointments every hour. During your session, we provide a comfortable blanket, a heated salt pack, and headphones with the soothing Harmonic Egg music for you to enjoy. This refreshing and beneficial experience can accommodate up to 5 guests at a time. Please ensure you arrive 5 minutes early, as the door will be closed on the hour. Kindly note that electronic devices are not allowed inside the Salt Room.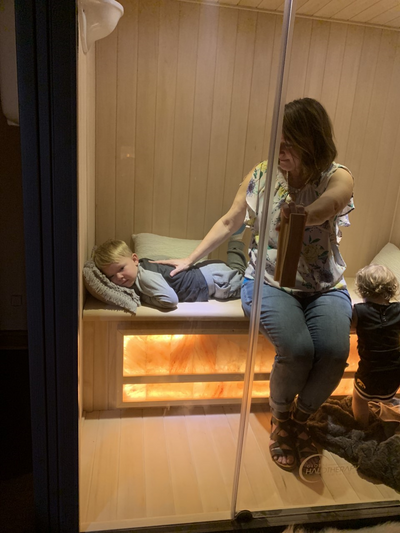 Now Available Halo-IR™ Salt BOOTH:
Introducing the Halo-IR™ Salt Booth: Immerse yourself in the benefits of Halotherapy within your own private space. Our clients can now choose between a non-heated session or experience the added comfort of infrared heat in the booth. This option is perfect for those seeking personal solitude or for parents who wish to accompany their child during a session. Bluetooth speakers are also available for your convenience.
We are pleased to offer two appointment choices:
30-Minute Sessions (Heated or Non-Heated): Enjoy 20 minutes of Halotherapy, equivalent to a 45-minute Salt Room session. The Salt Booth accommodates either one person or a parent and up to two children under the age of 18.

55-Minute Heated Session: Indulge in 20 minutes of Halotherapy, followed by an additional 35 minutes to relish the comforting heat of the Sauna component.
+ How does Salt Therapy work?
Dry pure grade salt is heated and then it is ground and crushed into very tiny micro-particles in a machine called a halogenerator. These dry aerosol micro-particles of salt are then dispersed into the salt room during a session. As the person relaxes in the salt room the micro-particles are inhaled as well as land on the skin. The particles penetrate deep into the lungs, bronchi, bronchioles, and alveoli as well as into the deeper layers of the skin.
+ Why does Salt Therapy work?
Salt therapy has three main characteristics: Dry salt is super absorbent, anti-inflammatory, and anti-bacterial. Because the microscopic salt particles get deep into the respiratory system as well as into the skin, the dry salt absorbs all the excess mucous, allergens and foreign elements in the respiratory system, opens constricted airways and kills the spreading of bacteria and viruses.
+ Who benefits from Halotherapy treatments?
Salt therapy benefits people of all ages and is great for overall wellness, respiratory, and skin. Salt therapy has provided benefits for those with the following conditions:
Allergies Emphysema
Asthma Psoriasis
Bronchitis Pneumonia
Bronchial Infections Rhinitis
Chronic ENT illnesses Sinus Infections
Cold/Flu Sinusitis
Cystic Fibrosis Smoker's Cough
Dermatitis Snoring
Ear Infections Stress and Fatigue
Eczema Wheezing
In addition, given the nature of salt therapy, it also:
Can expand the airways for increased oxygen flow and capacity to enhance athletic performance and endurance
Is great for actors, singers and others who constantly use their vocal chords
Enables better recovery time from physical activity and stress
Accelerates recovery from common colds and the flu
Is supportive for quitting smoking
Revitalizes jet lag
Slows the aging process
Detoxifies
Is it Harmful to Breathe in Too Much Salt?
While eating or ingesting too much salt can be bad for your body, breathing it in does not affect your heart, stomach or kidneys, as exposure during salt therapy is limited to your respiratory system. Even then, the concentration of pharmaceutical grade salt that you breathe in during salt therapy is very low (between .5 and 10 milligrams per cubic meter — less than a tea spoon). Because of salt's natural anti bacterial, anti-inflammatory properties, and its ability to clear passageways and break down mucous, it has only healing affects when taken into the body this way.
What protocol is suggested forSpecific Conditions
Based on an individual's condition and symptoms, this can vary, since like many wellness and health regimens, individuals respond differently. Many individuals will notice a positive effect in just in one session, however, a series of sessions is recommended for optimal results. Some people go two to three times a week for a three to four-week ritual during allergy and cold seasons, some people go twice a week for six to eight weeks for more chronic conditions. Those who go for general wellness, stress relief, and relaxation simply go as often as they like. For best results, a series of treatments is recommended. The Salt Therapy Association additionally recommends using dry salt therapy as a continuous preventive measure to strengthen the immune system against colds, cough, allergies, and sinusitis.
*Dry Salt Therapy Treatment Protocols
Although the FDA has yet to establish official protocols for dry salt therapy in the United States, some European countries have incorporated the following duration of treatment:
•Asthma (mild): 12-14 days •Asthma (severe): 18-21 days
•Acute bronchitis: 12-14 days •Recurrent bronchitis: 12-14 days •Chronic simple bronchitis: 18-21 days
•Chronic obstructive bronchitis: 18-21 days
•Pneumonia after acute stage: 12-14 days
•Cystic fibrosis: 20-25 days
•Chronic sinusitis: 14-18 days •Acute sinusitis: 3-5 days
•Hay fever: 12-14 days
•Smokers: 12-14 days
PLEASE NOTE:For best results, during a course of therapy, chronic sufferers should try to complete sessions as consecutively as possible - daily is best, but at least 3 times a week are usually needed for challenging cases.
Provided by the Salt Therapy Association
 +How safe is a Salt Therapy?
Salt Therapy is completely safe. It is a 100% natural, drug-free, non-invasive wellness ritual with no side effects or potential health hazards. If an individual has any questions or concerns regarding any current medical or other condition, please consult with your healthcare professional.
+ Is Salt Therapy safe for children?
Salt therapy is not only safe for children; it is a highly recommended natural treatment. There are no potentially harmful side effects. The treatment is suitable for children of any age (as young as 1-month-old). Children, in fact, respond to the therapy even more quickly than do adults. During a Salt Therapy Session, children play with toys, read books and interact with other children.
While Halotherapy is a relatively gentle treatment, people with severe conditions such as the following should consult their doctor prior to adding Halotherapy to their existing medical treatment:
Halotherapy is not recommended for individuals without a Doctors consent for the following conditions:
Existence or suspicion of cancer
Any kind of infectious disease
Acute respiratory disease
COPD with 3rd stage of chronic lung insufficiency
Coughing of blood/bleeding
Infections accompanied by fever
High blood pressure/hypertension in IIB stage
Any form or stage of tuberculosis
Chronic kidney disease
What about the concern that salt is bad for you?
Some people are concerned about the intake of salt because of issues relating to diet, high blood pressure, and hypertension. This type of salt intake is connected to the digestive tract.
Dry salt therapy is different as it associated with the respiratory system. When inhaled, the amount of micro salt particles entering your respiratory system is extremely low that it doesn't present any risk to your health. It actually kills bacteria, reduces inflammation and expands airways.
+ Are there any side effects?
Infrequently. Some people might experience a mild tickle in the throat or an increase in a cough due to an excess mucus buildup. This is an indication the therapy is working. Other effects might be a slight skin irritation for those with hypersensitive skin.
Contraindications (World Salt Association)
Halotherapy is recognized as a safe and effective wellness practice for preventive and restorative health care. It is not a medical treatment and does not offer a cure!
Halotherapy should be avoided during the acute phase of any illness, including the list below. Contact your doctor before use if you are unsure if Halotherapy would be safe for you.
infections accompanied by fever
acute active tuberculosis
cardiac insufficiency
COPD in the third stage
bleeding
spitting of blood
contagious ailments
have use of an oxygen tank to aid breathing
alcohol or drug intoxication
unstable or uncontrolled hypertension
acute stages of respiratory diseases.
We understand more studies are needed to understand if there are any further contraindications, but we can confidently say that thousands of individuals have experienced salt therapy throughout the decades, and none have suggested the contraindications were present. We also encourage individuals to consult their local physician before beginning any regiment of dry salt therapy. Pregnant women should consult with their doctor before using Halotherapy. Anyone with serious health concerns needs to seek proper medical advice and care.
+ What should I expect and experience in the Salt Room?
Our Salt therapy rooms are relaxation rooms that provide a very tranquil experience. The salt room are equipped with Chaise lounge chairs where can you sit back, relax and just breathe. During the session, you will be surrounded by a very fine aerosol of dry salt particles that are barely visible to the eye. The lights will dim and you can choose to listen to relaxing music,, meditate, or simply rest. We provide headphones and MP3 players that have guided meditations and a selection of relaxing music. Blankets and pillows help you stay cozy and comfortable during the session. The temperature and humidity in the rooms are controlled to provide an optimal experience. At the end of the session, you may have a slight taste of salt on your lips.
+ How many sessions does it take?
Like many wellness and health regimens, people respond differently. Many people will notice a positive effect in just in one session, however, a series of sessions is recommended for optimal results. Some people come 2-3 times a week for a 3-4 week ritual during allergy and cold seasons, some people come 2 times a week for 6-8 weeks for more chronic conditions. Those who come for general wellness, stress relief, and relaxation simply come as often as they like. For many conditions, after a series of sessions, symptoms subside and relief can last for several months before another session is needed. It can also be used as a preventative measure to strengthen the immune system against colds, cough, allergies, and sinusitis. You cannot overdose on salt therapy.
+ How long is a session?
How long is a session?
All of our sessions are 45 minutes long.
+ What should I wear?
You will want to wear comfortable clothing (salt air is not harmful nor will it leave a noticeable residue). Please wear layers and dress for a cooler environment. You can wear shorts and t-shirts to expose your skin if necessary.
+ Can I use my cell phone or tablet during a session?
We insist on unplugging for your session so you can truly relax, plus salt is also corrosive to electronics. No cell phones or electronics are allowed in the salt room except for the mp3 players that we provide.
+ Do you have a group rate?
Yes! You can book the main room for a private group session for $100 and this room holds up to 4 people . Groups must be booked by calling or Balance on Buffalo
+ What is the difference between Halotherapy and Speleotherapy?
Speleotherapy is salt therapy, but the rooms where it happens just have salt on the walls and floors. It's not pumped through the air with a halogenerator for halotherapy, like we do in the salt space. We offer Speleotherapy inside our Infrared Sauna (coming soon) and can be helpful for relaxation, but will not treat respiratory ailments and skin disorders as halotherapy with a true halogenerator. If you are visiting a clinic that advertises salt therapy, make sure you ask if a generator is used to distribute the salt particles throughout the air. The results you'll get from the treatment depend on it.
Disclaimer:
While there are many clinical and scientific studies conducted on dry salt therapy (halotherapy) throughout the world, the FDA has not evaluated the statements made throughout this material, content, website, etc. Dry salt therapy is not intended to diagnose, treat, cure or prevent any disease.
Testimonials
The staff meets my different needs for each appointment. My problem areas are addressed and I have great weeks of relief and comfort.
— T.A.
Welcoming atmosphere and beautiful space. Good energy. Positive. Uplifting. Humble. Awesome people.

— M.K.

tranquil environment, professional and talented staff, and an overall fantastic space in which to heal and grow.

— J.V.

Informative, professional, wonderful atmosphere.

— S.Z.

Friendly staff, nicely decorated building, knowledgeable instructors, well stocked with equipment that we can use.

— P.W.