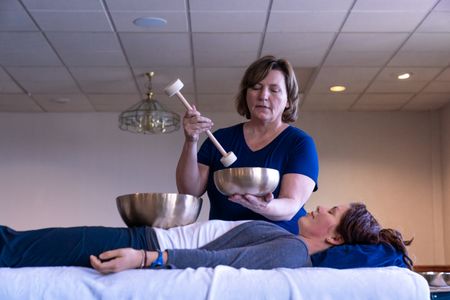 Peter Hess® Sound Massage Level I Training 
This course is open to anyone who wants to learn the basics of the Peter Hess® Sound Massage including, health and wellness professionals who intend to pursue training in Sound Massage®, as well as individuals who want to help their loved ones - spouses, children, family members, pets, and friends to alleviate symptoms of stress including:
Tension and the accompanying aches, Insomnia
Trouble falling asleep
Pain – including joint and back pain
Menstrual cramps
IBS
More energy
and a whole lot more
The benefits you can expect are astounding! As an added benefit, every time you administer a basic sound massage, you will also benefit from the treatment — doing good for others, while doing something good for yourself.
Course Objective:
The goal of this training is to familiarize you, the participant, with the basic principles of the Peter Hess ® Sound Massage. Not only will you have the opportunity to experience the "Sound Massage" yourself, you will also receive your first instructions in sound massage applications and, as a result, you will be able to perform the "Sound Massage" for private use.
Prerequisite: none
Hours of Study: 16
Lecturer: Gina Armstrong
Course descriptions for Level I:
History of "Sound Massage"
Information about various types of singing bowls and mallets
Sound massage theory.
Experience the sensation of the sound in the body
Demonstration of the basic sound massage
Guided practice of the basic sound massage in pairs
Independent practice of the sound massage in pairs
Group discussions
Application of the "Sound Massage" — possibilities, safety and limitations.
After this course the participants will be able to apply the Peter Hess ® Sound Massage for personal use.​